CPA Australia CPD Diary
Your CPD Diary helps you maintain a record of the CPD activities you have participated in all in one convenient online record
How to complete the CPD Diary

Step 1: Add a new activity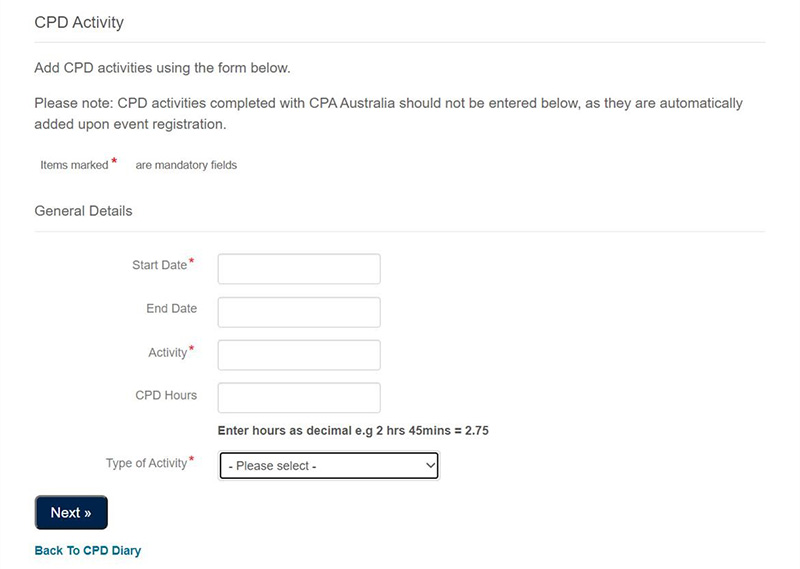 Step 2: Enter the details about the activity
Date format: DD/MM/YYYY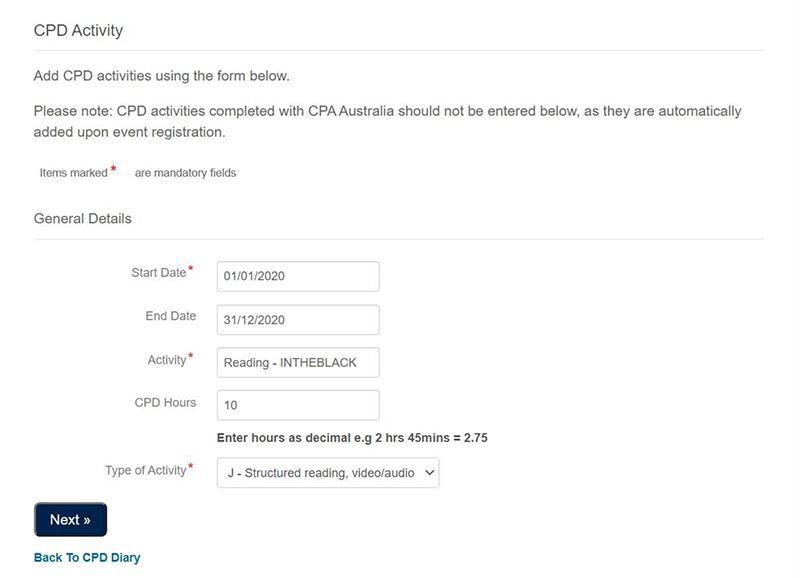 Step 3: Change activity status to complete

Step 4: Agree to the terms and conditions

Step 5: Submit
Recording CPD if you work for a recognised employer partner
If you work for a recognised employer partner, they will retain your CPD evidence. Here's how you'll need to complete your CPD Diary: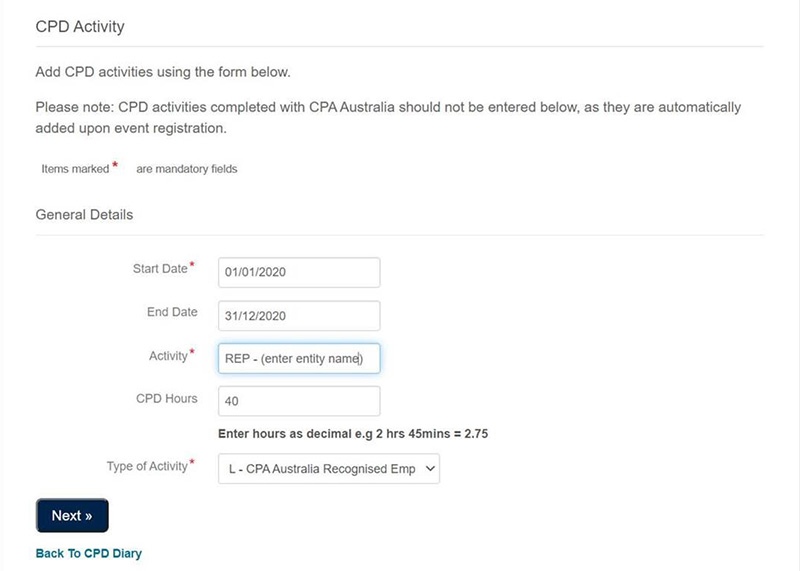 Commonly used terms in the CPD Diary
Not yet attended
This event will occur in the future and you have not participated in it yet.
Not yet completed
This activity is started but not finished. CPD hours will be credited upon the successful completion of an eligible activity.
When you complete a CPD activity, you must click "change to complete" in your CPD Diary for the activity to be successfully recorded.
Not yet confirmed
This is a CPA Australia activity where your attendance is yet to be confirmed. It can take several months to confirm attendance and for the event to be uploaded into your diary.
What is an aim?
This is the purpose or goal of the CPD activity. A good example of an aim is "to maintain currency of knowledge in the DIY superannuation area".
What is an objective?
This is the change in knowledge or how you work, that the CPD activity is intended to achieve. An activity usually involves specific objectives, which derive from an aim. The objectives are the ways or method used to approach or reach an aim.
For example, using the aim above, examples of your objectives could include:
identify legislative changes affecting self-managed superannuation funds
incorporate those changes into overall understanding of self-managed and other superannuation funds
determine the effect these changes will have on client groups or employers or member's own work
modify professional advice if necessary, based on changes.
The logical framework is the action plan for fulfilling the objectives. The framework of activities is guided by the objectives.
Using the example above, a framework may include the following steps:
research undertaken in a particular topic
analysis of the change in context
application of the new understanding to a specific group
review of the objectives and learning undertaken.
Why did I get logged out of the CPD diary?
For security reasons, you'll be automatically logged out of the CPD Diary after 20 minutes of inactivity.