How to begin your road to recovery
Times of crisis impact businesses in different ways. We've created a roadmap to help you or your clients navigate the way through recovery, no matter what stage your business is at. Simply click on the stage that's most relevant to your or your client's business.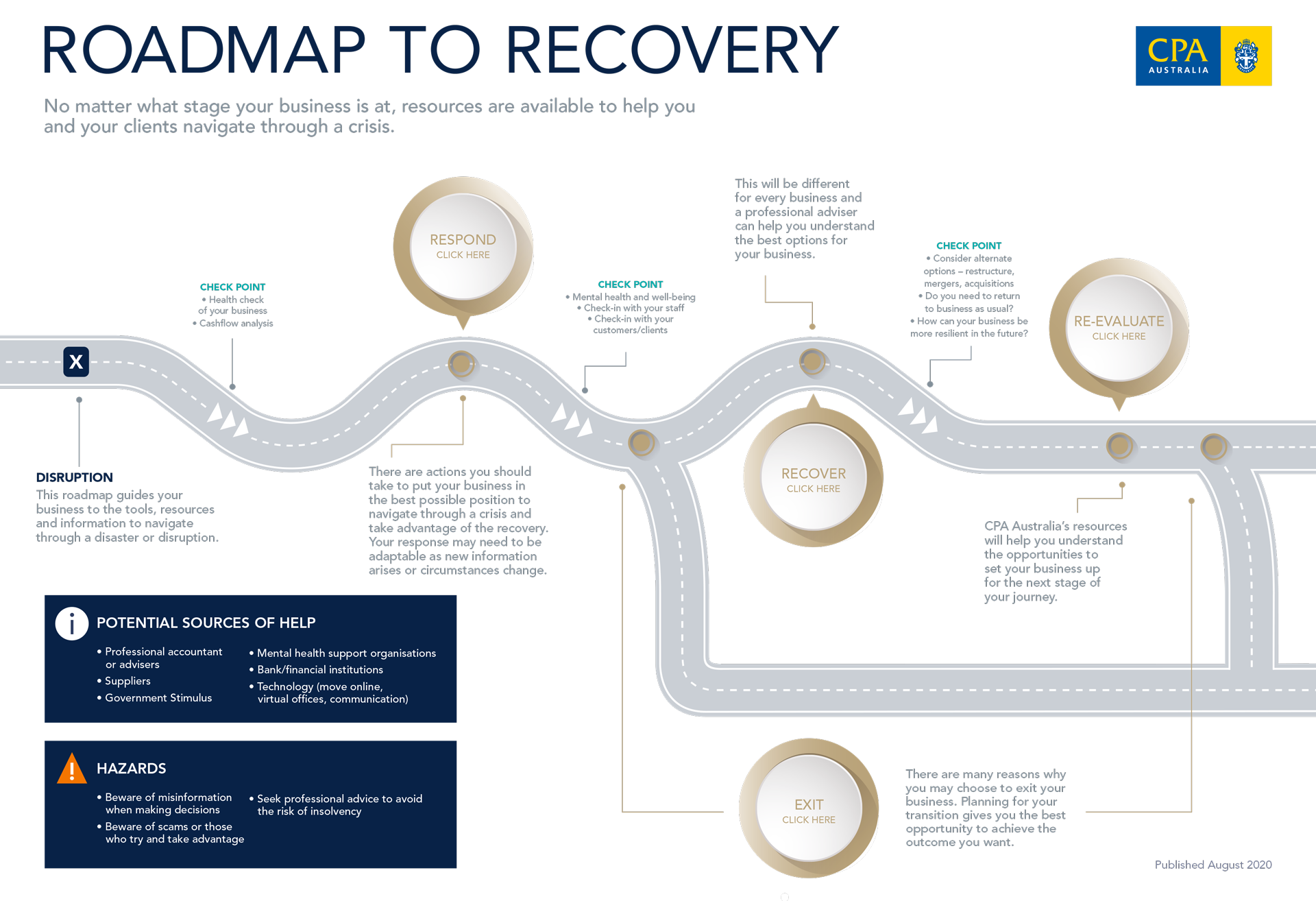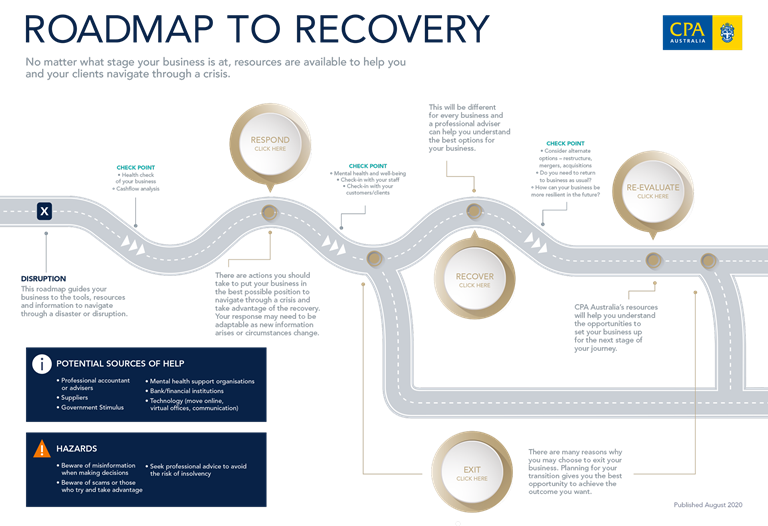 No matter what stage your business is at, resources are available to help you and your clients navigate through a crisis.
---
Stage 1 - Respond
If your business has been impacted by Covid-19 there are a range of actions you can take to put you in the best possible position to navigate through the crisis and to prepare to take advantage of the recovery.
It's important to keep up to date with official information from trusted sources and government authorities and adapt to changing circumstances that may impact your response.
The resources below include essential information for businesses to respond to COVID-19.
---
Stage 2 – Recover
After taking immediate actions to determine your business position and options, you can look to the recovery phase. This will be different for every business, so you'll need to consider the option that's best for you. A professional adviser can help you understand the options and future opportunities for your business.
It's important to take the time to consider your own physical and mental health through the process, as well as the health of your business. Seek support if needed and explore our resources on how to build resilience and take care of your mental health. The resources below contain key information about business recovery.
---
Stage 3 – Re-evaluate or reinvent
Sometimes a crisis will be an opportunity to re-evaluate and reset your business goals and objectives. You may decide to completely change your operations or find new opportunities. Similarly, you may decide that it's time for you to change paths and leave the business.
Our resources will help you determine your future strategy, build on opportunities and set yourself up for your next stage of the journey. Refer to the below resources for insights to help re-evaluate or re-invent your business for the future.
This fact sheet is aimed at small e-commerce businesses. It provides advice and tips on how to on to stand out from your competitors and how to build trust with your customers.
---
Exit your business
There are many reasons behind the decision to exit a business and planning this transition gives you the best opportunity to achieve the outcome you want. We strongly recommend you seek professional advice throughout the process to give you the best chance of successfully exiting your business.