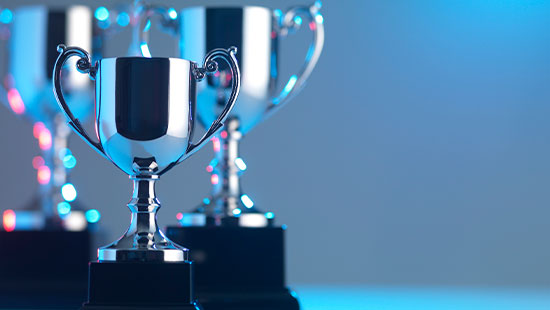 Elizabeth Fry | August 2020
This article was current at the time of publication.
Twenty-three CPA Australia-associated firms and individuals were singled out at the Australian Accounting Awards 2020.
The awards identify a group of influential firms in the industry, and these winners share a common vision of creating solutions that improve their clients' business.
They are focused on modernising to build strong relationships and to become trusted advisers through always having their clients' best interests in their sights.
INPRACTICE checks in with five of the winners to discover what makes their firms stand out.
Firm of the year – Carbon Group
Growth through mergers is how Carbon Group is strengthening its presence in the market to become a A$100 million revenue firm within five years, with plans to expand into NZ, the UK and Canada thereafter.
Carbon's co-founders, Nathan Hood CPA and Jamie Davison CPA, say Carbon will continue its growth trajectory through mergers, and take advantage of the numerous opportunities that will emerge over the coming months.
The two executives are currently reviewing several possible deals, and earlier this year opened up the equity base to its partners and staff to help fund these acquisitions, which will allow them to achieve economies of scale and long-term revenue growth.
In 2019, Hood and Davison bedded down several key accounting practice acquisitions, bringing the company's headcount from 11 to more than 160 in six years.
What sets Carbon apart from its rivals is much more than a successful growth strategy, or even allowing the team to have "skin in the game". Importantly, Carbon's partnership model offers a succession program for exiting partners.
"Most accounting firms have one majority partner, so merging a few years before their retirement ensures their clients are well looked after and the business will continue," says Hood.
In addition to the succession planning business, Carbon has a path to a partnership that incubates young entrepreneurs who want to start their own professional services business while having a safety net of Carbon's nationwide platform.
As part of the deal, the new partners convert to an easily scalable cloud-based platform that provides their clients with access to a suite of services including advisory, financial planning, finance broking and insurance broking, as well as bookkeeping and accounting.
"We will embed new systems and infrastructure, but the partners can customise delivery to appeal to their client base, whether that be country and regional areas or metropolitan," adds Davison.
With economies of scale and a lower cost structure, the merging partner can earn almost the same from 50 per cent of the firm as when it was wholly owned.
Partner of the year (boutique firm) – Kylie Baxter CPA
IQ Accountants posted a 35 per cent increase in revenue in 2019, driven by mounting client confidence in a wholly digital practice, which helped improve decision-making, which led to significant productivity gains.
While other firms describe themselves as being "paper-lite", IQ is paper-free, which Kyelie Baxter argues is a complete game-changer. As a digital firm, IQ does not send clients any paperwork and will not accept documents from them.
"People think their firms are digital, but they're not if their clients are paper-based," she says.
When Baxter turned IQ into an e-firm six years ago, it was risky. The worry was that clients would desert the practice because they were unable to adapt to technology. That did not happen.
Baxter found that by being fully automated, her team was able to work more collaboratively with clients by providing them with real-time information instead of outdated data that did not reflect what was happening in their business.
She ensures that IQ is constantly on the front foot of technology and has embraced a "try by doing" attitude that has allowed the business to grow.
"I have never let the phrase 'it's too hard' get in my way, or 'this way has always worked' stop me from trying something new," she says.
This approach has resulted in higher acceptance and a rapid rise in new clients.
Baxter says the key strategic decisions were made in 2019 precisely because of the underlying decision to be a digital firm, which drove the dramatic revenue growth.
Productivity gains from restructuring the bookkeeping and accounting arms of the business mean they provide a wider range of services to clients with the same number of staff.
Clients were able to access the in-house bookkeeping team at a lower cost, and benefit from advisory services from the accounting side for the same fees they had previously been paying.
"It was win/win for the client and for us," notes Baxter.
Boutique firm of the year (less than 20 employees) – The Pen Accounting
The Pen Accounting plays an active role in business strategy, providing clients with genuine business insights that help drive growth and help clients seize opportunities.
Expanding the firm's business partnerships and network also distinguishes The Pen's business model from competitors that steadfastly cling to the traditional model of providing clients with accounting tax and compliance services.
As a trusted adviser, the firm offers support through a whole host of services to its small and midsize creative business clients to help them reach their financial goals.
These include CFO services, financial management and direction, strategic planning and forecasting, goal setting and budgeting.
The Pen founder Kirsty Donachie CPA works intimately with clients – monitoring their financial performance to establish budgets to forecast and track progress.
"We are constantly setting new KPIs and forecasts for what their cash flow and revenue will look like in three months," she says.
"Striving to stay ahead of our clients' needs requires a disciplined approach," she notes, adding that The Pen's massive growth spurt was underpinned by cloud-based technology integration, which is a major differentiator.
Hooking new stand-alone platforms up with Xero has made procedural streamlining a necessity. Each new bolt-on allows the team to work with clients on the bigger issues, such as new product launches and acquisitions.
"New technologies allow us to free up time for the thinking and reflection that are necessary to provide genuine business insights that drive growth and ensure the company is going in the right direction," she explains.
During 2019, the firm forged relationships with Receipt Bank, Hubdoc, Accelo, WorkflowMax, Spotlight Reporting and Practice Ignition. The firm also continued to strengthen its partnership with Xero.
Partnering with technology-based solution providers creates faster, accurate reports in real time, which is key as innovative business owners are looking to their accountants to provide more and more data-driven information.
"We believe it is very important for business owners to know and understand their numbers. This is why we work with our clients intimately, and we are always looking for new ways to present their numbers and help them to understand their financial story," notes Donachie.
Boutique firm of the year (20 employees or more) – Fortuna Advisory Group
Fortuna Advisory Group aims to become one of Australia's top 100 accounting firms by 2022 as it continues to rely on a multi-disciplinary service model and a unique corporate culture to drive long-term revenue growth.
Founder and managing director Dinesh Aggarwal FCPA has long proclaimed the superiority of a "one-stop-shop" model that provides robust advice spanning all facets of accounting, tax, business advisory, legal services, mortgage broking, and financial planning.
Corporate culture has always been a great differentiator for the Perth-based financial services firm.
Aggarwal has a deliberate focus on values and establishing a strong culture. "The client relationship is defined by who we are as people, our life outside the business, and our focus on helping the less fortunate," he says.
"When business challenges present themselves, the way ahead, therefore, is clear, the decision-making process is efficient and quick. There is less chance of ambiguity when each employee acts in the best interest of Fortuna," he adds.
Participatory leadership is a hallmark of the firm's culture. All Fortuna employees at some point head up a project that they are passionate about.
"We motivate people to come up with projects of their choice and assist them to run with them. Fortuna is also the only firm of its kind to have a dedicated charity arm – the Fortuna Foundation.
"Far from being a marketing device, philanthropy is a core part of the business strategy and an important 'piece of the puzzle' from day one. It brings empathy back into the service model," adds Aggarwal.
Key growth strategies adopted in 2019 included cementing relationships with the firm's oldest clients.
Fortuna surveyed clients to gain a deeper understanding of their experience. Based on the responses, Aggarwal and his team were able to analyse the gap between the firm's values and what they are perceived to be. This gap laid the foundation for an updated CRM.


New partner of the year – Adam Peacock FCPA
What distinguishes Adam Peacock FCPA, of Peacock Accounting Services, from his peers is his deep financial expertise following senior finance roles at globally listed companies in the resources and services sectors.
His extensive commercial background has triggered referrals from clients keen for advice from a former chief financial officer with the business acumen needed to understand the long-term health of their industry and business.
Peacock has more than 28 years' experience in corporate world-leading companies' finance function and business operations in a variety of industries that face tumultuous change.
His other unique selling point concerns turning a loss-making practice into one that has a net profit-to-turnover ratio of 50 per cent. Eighteen months ago, Peacock bought an accounting practice that was racked with problems, including a diminishing client base, high employee turnover and unhappy clients.
He set about slashing costs, streamlining back-office processes, changing the pricing model for the firm's services, leasing smaller premises with more foot traffic, cutting the number of accounting software licences and switching to internet phones.
Peacock changed to cloud-based and automated software that clients could use themselves. His CFO and his turnaround expertise meant he could relate on several levels to a wide range of clients, many of which were not operating efficiently.
What he brings is a different perspective. "I don't just prepare accounts; the underlying difference is that I can give quality advice on improving business operation and efficiencies by drawing upon my previous experience in these situations."
He says there is a gap in the market for advice on the right structure for the current environment and their position in the market.
In addition to preparing accounts, he monitors cash balances, develops cash flow forecasts and runs multiple scenarios to ensure short-term liquidity, and right-sizes the costs to align with revenue.
"We are now starting to turn businesses to become more sustainable by scrutinising and questioning costs in businesses that are losing thousands of dollars because they are not asking the hard questions.
"Many clients just haven't had this level of care, education and advice previously, and they notice the difference."