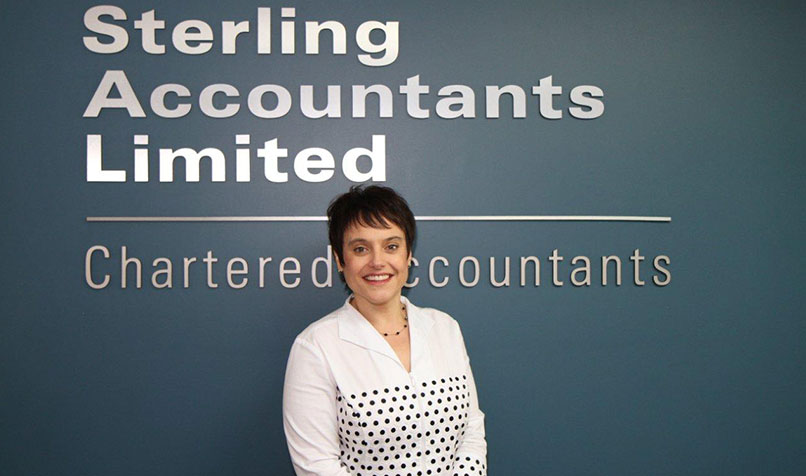 Helen Hawkes | November 2021
This article was current at the time of publication.
Director of Sterling Accountants in Christchurch, New Zealand, Ann-Maree Ozanne has assisted a diverse portfolio of clients with tax compliance and business mentoring since 2010.
With a Bachelor of Business Studies (Professional Accounting) from Massey University, her focus is on bottom line profit so that self-employed contractors in trades and agriculture and owners of small-to-medium businesses can work smarter, not harder.

When she isn't in the office, Ozanne enjoys spending time with her family.

She is also passionate about listening to and singing jazz songs by artists such as Nina Simone and Tony Bennett and recently studied at Hagley Jazz School.
Can you tell us about your business and the work you do?
We help small businesses from builders, electricians, and a beekeeper with accounting, tax and business advisory services. Our firm even has a forensic anthropologist on the books. I love that I often find out interesting facts about different subjects – from history to honey farming – talking with clients.
They range in age from 17 to mid-80s and many are numerophobic. They love their jobs but don't want to get involved in reams of paperwork. A few are resistant to any type of software.
For us, it is about adapting to our clients' needs and guiding them along the path of the most efficient and cost-effective ways to handle their accounts and run their business.
What about your firm's culture?
We are a close-knit "family". Mostly, it has been a female staff ¬and none of the team works full-time so that they can maintain commitments such as attending a school event.
There are four of us and we work in an open-plan environment, which encourages great communication.
We aim to keep it real and try not to sweat the small stuff. We also have a girls' night out every so often where we can relax with one another and enjoy some downtime.
What is getting you through the pandemic?
We're taking it one day at a time and checking in with each other every day when working from home.
The biggest thing is taking care of yourself and your family, otherwise the time you spend working will not be about giving your best. If it means you work different times of the day than normal to work around family, that's OK.
In the years before COVID-19, we had already been through multiple earthquakes, which taught us how to cope in a crisis. When the earthquake in 2011 hit, one of the accounting firms by the river had their building collapse. There were people injured and some of their records were floating downstream.
We were out of our office for two weeks, unable to work. We didn't have access to technology to be able to help our clients at that point.
After that, we started to move towards a fully electronic office, bit by bit. When the pandemic began, our systems were all online. That meant we could be set up and working from home straight away and it was business as usual – as much as it can be with distractions.
In the first lockdown, we were up and running the day after it was announced.
What's the number one business issue for you at present?
What is going on in our clients' lives, their issues and their ability to pay has a big impact on us when we go into lockdown.
Often, we are at the end of the food chain, which puts a strain on our cash flow.
We are also more than the accountant when a client calls, meaning we can spend more time talking them through things, which is good but takes time.
What are your future plans?
Our goal for all able clients is to have them online in our portal and send and receive information electronically.
Apart from that, it is to continue to slowly grow the practice at a pace I am comfortable with – one where we are still able to offer a personal service and maintain our relaxed culture.
What motivated you to join CPA Australia?
It was dissatisfaction with the support and fees of another organisation I belonged to, as well as their lack of thinking outside the square and lack of communication during the first earthquake.
After joining CPA Australia in New Zealand, I have never looked back. The support is amazing, especially when you are a small practitioner.