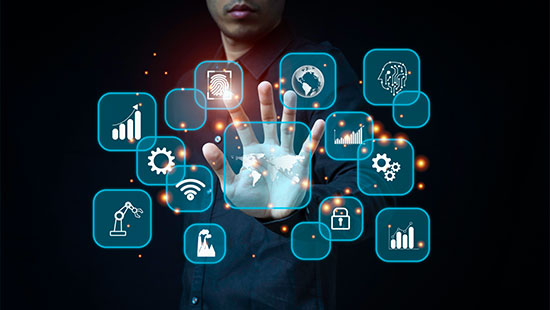 Helen Hawkes | May 2023
This article was current at the time of publication.
Business sentiment and growth are bouncing back post-Covid-19 lockdowns, but many Australian small businesses still need to focus on online services, technology and innovation to drive high growth.
CPA Australia's 14th Asia-Pacific small business survey across 11 economies found customer loyalty, good staff, improved business strategy and cost control were the top four factors that had a positive influence on Australian businesses in 2022.
The most negative factors: Covid-19, increasing costs, rising interest rates and supply disruption.
"I have a food client who imports all their equipment from Germany and is still having major supply chain issues," says Dean Robinson CPA, whose Sydney-based firm specialises in working with family-owned and privately controlled businesses. "
Another of their pain points is that ingredient prices haven't peaked yet."
2022 was a strong year for small business
Yet despite market constraints, 2022 has been the strongest year for Australian small businesses since 2017, with 47.6 per cent reporting business growth, up 15.4 percentage points from 2021.
CPA Australia's Business Investment Policy Adviser Gavan Ord says small businesses are generally enjoying a better business environment, reduced employee absenteeism and stronger sales, adding to higher growth.
However, compared to some other countries, they are still down the growth scale – Australia had the third lowest growth in the Asia-Pacific small business sector.
The survey showed 55.1 per cent expect to grow – significantly lower than the 65.7 per cent average – and only 43.3 per cent expect the local economy to improve in the next 12 months, compared to the survey average of 62.5 per cent.
Developing your advisory business
CPA Australia's small business survey revealed areas of opportunity for accountants to help their clients. Setting them up for the future in new markets and products, marketing channel and budgeting are just some of the ways. CPA Australia has a range of guides and courses to help future-proof and grow your practice.
Getting to grips with technology
Australian small businesses continue to be less likely to earn revenue from online sales (46.3 per cent earned more than 10 per cent of revenue from online sales compared with 89.1 per cent of Mainland Chinese small businesses).
They are second-most likely not to use social media for business purposes (30.4 per cent compared with just 2.1 per cent of Mainland Chinese small businesses). And they ranked second-last in receiving more than 10 per cent of sales through new digital and payment technologies such as PayPal and Apple Pay (55.2 per cent compared to 94.1 per cent of Mainland Chinese small businesses).
This contrasts with the fact that high-growth small businesses continue to be significantly more likely to sell online, receive payments through new payment technologies and use social media in a variety of ways, including learning more about existing and potential customers.
Robinson believes he's fortunate to work with family businesses that are dynamic and enterprising, including in the online space.
"I have one client in disability support, for example, who is selling a substantial amount of product online," he says.
"I also have an optometry client delivering training to optical dispensers in Europe and the United Kingdom using a digital platform."
However, he agrees that many small businesses are weak in terms of social media because "they still believe in the depth of relationship with the customer" – ironically, something the survey found was characteristic of high-growth small businesses.
Even so, Australian businesses do need to generate some kind of social media post or content regularly as part of a business growth strategy, he says.
"I do a weekly newsletter that has generated more than six figures of income for me from non-clients. Consistent social media is key to engagement."
Innovating to build growth
The CPA Australia survey also found that a relatively low percentage of Australian small businesses invest in or undertake activities in areas including innovation and export.
Only 14.3 per cent intend to introduce a new product, process, or service that is unique to their market or the world in 2023 – well below the 34.4 per cent average.
However, Robinson believes this may improve as market confidence returns.
He says many of his clients – spanning fields from manufacturing to commercial cleaning – are optimistic about their ability to develop new products and services and "go to the world as well as their next-door neighbour".
"I have a machinery client who has developed a petrol-driven post hole driver, as well as a remote control pro-loader that can be used in tight spots, and both pieces of equipment are leading the market," he says.
Likewise, an electrical services client continues to innovate around the development of standalone power systems.
"They have designed a solar-powered generator inside of a half-size shipping container-style unit that can be used in remote locations for farming, mining and telecommunications.
"They're further refining the product from using a ground-mounted solar system to having foldable panels affixed to the unit itself."
In his business dealings, Robinson continues to see a pattern of constant restlessness about what's next and it is this, he says, that's fuelling a desire to innovate.
To keep their businesses relevant, he adds that accountants must give their clients the assistance they need to grow.
"Accountants are natural business advisers but too many have their head down and are reactive and compliance-focussed," Robinson maintains.
"Getting small businesses to step into an entrepreneurial role, rather than keeping getting dragged back into the technician space, is the only way to build growth."
CPA Australia has also called on the Australian Government to do more to attract next-generation business owners, with the survey showing Australia is the market with the highest percentage of respondents aged 50 and over.
There is a case to suggest that this might (at least in part) account for lower levels of digital capability than international rivals.