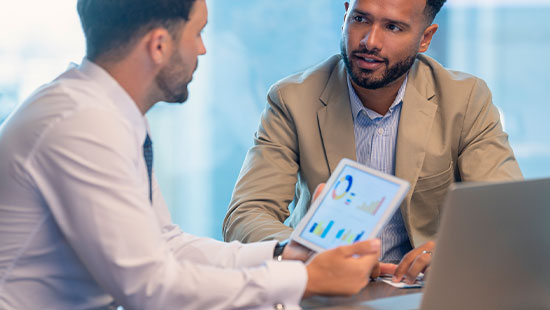 Nicola Heath | September 2022
This article was current at the time of publication.
"I've always been a purpose-driven person," says Jonathan Maharaj FCPA, Founder and CEO of New Zealand-based practice Aurora Financials.
Maharaj is the winner of the inaugural Murray Wyatt Award, which was established in memory of Murray Wyatt FCPA, who passed away unexpectedly on 23 July 2021. It recognises innovation, progress and advocacy in the public practice community.
Lesson 1: Move out of your comfort zone
"I love helping people, and if we can grow our business doing that, it's a win-win," Maharaj says.
Maharaj grew up in Fiji and studied at the University of the South Pacific before beginning his career in 2005 as an auditor at PwC.
He then moved out of accounting and joined New Zealand's Exchange (NZX) in a risk and compliance role.
"Eventually, I led the stock exchange's market conduct team," he says. "Sometimes you've got to push yourself out of your comfort zone – and I learned a lot."
In 2020, Maharaj left NZX and took an internal audit position at a New Zealand bank. However, it left him feeling unfulfilled, and in 2021 Maharaj decided to leave the bank and go into public practice full-time.
Until then, his practice had been a part-time "side hustle", he says. "I was building it up slowly, testing the waters, and building a client base."
Lesson 2: Have a sense of purpose
The decision to focus on Aurora Financials was a true leap of faith.
"It was pretty scary in the beginning … jumping into the unknown," Maharaj admits.
"Clients can leave at any time – that's the reality. But the key thing for me was that I knew what my 'True North' was, and it was a purpose. I was clear about what I wanted to achieve."
That sense of purpose is centred around a commitment to help others.
"I really wanted to be able to package all of that experience I [gained] in very different roles and help my clients achieve best practice."
Maharaj insists that for him values such as integrity and generosity are non-negotiable, and he often works pro bono.
He helped one client resolve a NZ$60,000 student loan that accrued when she was a single mother studying at university.
"I didn't take a cent from her," he says. "That's what separates us from a lot of other providers who are just interested in billable hours and fees."
Lesson 3: Do things differently
Maharaj realised early in his career that he didn't want to specialise.
"I couldn't see myself doing tax all my life because, in the world of business, you've got to be multifaceted – a generalist."
Maharaj sees the future of public practice as providing big-picture services for clients rather than traditional compliance or transactional work. He says that outsourcing and automation have made it impossible to scale a business that primarily relies on filing annual tax returns.
"What I really enjoy is saying, 'Look, I can handle the end-to-end of your books … but what about your story? What do you want to achieve for your business, and how do you want it to grow? And what targets have you?'"
Building strong relationships with clients is what drives Maharaj. "I love connecting with people and helping them achieve [their goals]," he says.
"That's what gets me up every morning – rather than filing tax returns."
Lesson 4: Build in flexibility
Long before the COVID-19 pandemic in 2020, Maharaj envisaged Aurora Financials as a remote and flexible operation.
"I wanted to do things a bit differently," he says. "I didn't want to be confined to one location. In New Zealand, commercial rent is horrendously expensive, and that's always a hurdle for start-ups and new business owners."
Maharaj says he also wanted to be present as a father to his two-year-old son, Noah.
"I don't want to be stuck in traffic for one-and-a-half hours a day one-way battling Wellington's traffic in winter weather," he says. "That's 700 hours of your life lost a year, and it's not productive."
Disruptive as it was, the pandemic illustrated that a remote business model not only works but "leads to a lot more engagement" and removes barriers to finding staff.
"You can find talent offshore," Maharaj says. "The whole team works fully remotely, and they work the hours that work for them."
Maharaj uses the same remote technology to connect with clients. "That means we can have clients anywhere because there's no need for me to get on a flight to Sydney or Melbourne."
Lesson 5: Use available resources
Aurora Financials is a diversified business that uses the CPA Australia MY FIRM. MY FUTURE. framework.
"We do audits, virtual CFO services with clients globally, and traditional tax work," Maharaj explains.
"I enjoy helping turn businesses around and working with founders and CEOs who have ideas to grow a business but don't have the expertise."
He says it's an honour to receive the inaugural Murray Wyatt Award. "It shows me that I'm on the right track."
He hopes his example inspires others to go into public practice.
"Yes, there's lots of pain and challenges in the world, but as public practitioners, we make a difference," he says.
"We're community builders, not just people who grow business."
Nominations will open for the 2023 Murray Wyatt Award in early December.