Content Summary
President's message
2023 Asia-Pacific Small Business Survey
Member Ambassador Pilot
Support for the Uluru Statement from the Heart
2022 Integrated Report
2023 Annual General Meeting (AGM)

President's message

I was delighted to be part of CPA Australia's International Women's Day event exploring the theme of 'Cracking the Code'. Sixty-five people attended in person and more than 240 tuned in online to hear guest speakers Megumi Miki, Nick McGuigan, Sarah Lawrence and Ted Turner speak about what it's going to take to crack the code to reach a gender equal future. This was just one of many special events held in Divisions across CPA Australia's global network to celebrate International Women's Day 2023 and acknowledge the achievements of women in the accounting and finance profession.
2023 Asia-Pacific Small Business Survey
CPA Australia this week released the 14th annual Asia-Pacific Small Business Survey. The survey offers insights and analysis into how small businesses in 11 economies across Australia and the Asia-Pacific region are responding to the current economic climate as well as the main factors shaping future growth, such as technology, innovation and management capability.
Member Ambassador Pilot

CPA Australia has launched a Member Ambassador pilot program that will see volunteer CPA Australia members visiting high schools, TAFEs and universities to share their stories and speak to students about the diverse opportunities that a career in accounting can provide. The aim is to attract the next generation of accounting and finance professionals by showing students that studying accounting can lead to opportunities in a broad range of industries, from sport, the arts and start-ups to music and helping to measure climate risks.
The Member Ambassador pilot was developed in conjunction with CPA Australia's Council of Presidents and Divisional Councils. The pilot launched with an invitation to all Divisional Council, Committee and Branch members and there has been a very positive response. I thank all the members who have expressed an interest in participating.

Support for the Uluru Statement from the Heart

In February CPA Australia released a formal response in support of the Uluru Statement of the Heart. The response aligns with our commitment to social responsibility and our reconciliation journey. It is guided by CPA Australia's Indigenous Advisory Group (IAG), and fully endorsed by the Board and the Executive Leadership Team.
The Uluru Statement from the Heart is a critical step forward for all Australians to embrace our shared history and walk together towards a better future. You can read our response on the CPA Australia website.
2022 Integrated Report

The Board has approved CPA Australia's 2022 Integrated Report that will be available to members in mid-April.
The Integrated Report contains detailed information on CPA Australia's performance and financial results for 2022 as well as results from the Member Engagement Survey. Following on from previous years there is an increased level of disclosure and transparency, particularly around the environment and our commitment to Net Zero. We have again received Limited Assurance under the Integrated Reporting Framework, and our materiality process has received reasonable assurance, making us only one of a very few organisations to achieve this.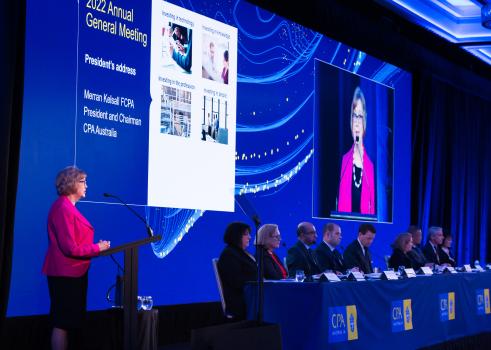 2023 Annual General Meeting (AGM)
Wednesday 17 May 2023 at 5.30pm (AEST)
Level 20, 28 Freshwater Place, Southbank, Victoria.
CPA Australia members can attend the AGM in person or watch via live webcast, and ask questions in person, online by text or by phone.
The notice of meeting for the AGM will be sent to members at least 21 days before the meeting. We encourage you to update your contact preferences to receive the notice of meeting and other AGM notices by email as this is more reliable, cost-effective and environmentally sustainable.
Details about the AGM are available on the Annual General Meeting Notices webpage. For further information, contact [email protected].
Merran Kelsall AO FCPA
President and Chair
On behalf of CPA Australia's Board of Directors