Content Summary
President's message
2023 Annual General Meeting
New CPA Australia podcasts launched
2023 Mentoring program – Applications Open
CPA Australia welcomes new CFO
CPA Australia office in Abu Dhabi
President's message
2023 is shaping as a productive year for CPA Australia as we begin to deliver on our new strategy. There are a number of exciting initiatives underway including:
delivering the Member Management and Finance (MMF) project that will improve the way we deliver services to members,
maintaining our strong focus on Policy and Advocacy activities to benefit members, the profession and the public interest,
making progress on our ESG Strategy and Net Zero Emissions Pathway, and
developing alternative membership pathways to attract new members from across business and finance disciplines.
We look forward to delivering these and continuing to enhance the value of CPA Australia membership.
On a personal note, I'd also like to thank the members who sent me congratulatory messages on my appointment as an Officer of the Order of Australia in the Australia Day Honours list.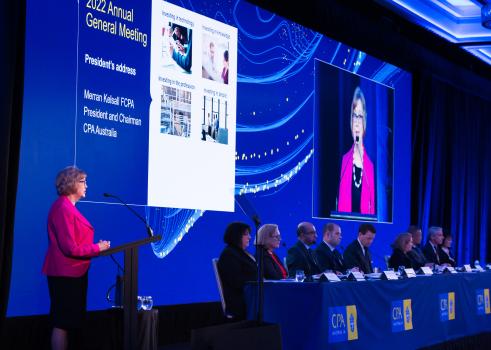 2023 Annual General Meeting

CPA Australia's Annual General Meeting (AGM) will be held on Wednesday 17 May 2023 at 5.30pm (AEST) at the offices of CPA Australia Ltd, Level 20, 28 Freshwater Place, Southbank, Victoria.
The AGM will be a hybrid meeting with CPA Australia members invited to attend in person or watch the live webcast. Members will also be able to ask questions of the Board in person, online by text or by phone.
The notice of meeting for the AGM will be dispatched to members at least 21 days before the meeting, in accordance with S249H of the Corporations Act 2001(Cth) and the CPA Australia Constitution.
As a member, you can elect how you wish to receive the notice of meeting and other AGM notices. You can choose to receive a physical copy (post) or an electronic copy (email). We strongly encourage you to update your contact preferences so that you can receive your notice of meeting and other AGM notices by email. This is the most timely and reliable method of communication, and it is also significantly more cost-effective and environmentally sustainable.
Details about the AGM are available on the Annual General Meeting Notices webpage. For further information, contact [email protected].

New CPA Australia podcasts launched

CPA Australia's podcast channel has been relaunched with three distinct podcast offerings: With Interest, INTHEBLACK and Excel Tips. Featuring informed commentary and insights from industry experts, each podcast has a unique focus designed to meet the diverse needs of accounting, finance and business professionals.
2023 Mentoring program – Applications Open
CPA Australia's mentoring programs are an excellent way to deepen your knowledge, develop new skills and expand your professional network. It is a rewarding experience for both mentors and mentees. Applications for the Australia and New Zealand and Public Practice programs are now open. Applications for the International program open later this month. For more information or to register, visit the mentoring program webpage.

CPA Australia welcomes new CFO

The Board is pleased to formally welcome George Kapitelli FCPA who was recently appointed as CPA Australia's Chief Financial Officer (CFO). George is a proven leader of business and finance teams with over thirty years' experience across a wide variety of industries and organisations internationally. A Fellow with CPA Australia (FCPA), George brings a wealth of knowledge and expertise to the executive leadership team.

CPA Australia office in Abu Dhabi

I was honoured to officially open CPA Australia's new office in Abu Dhabi in the United Arab Emirates (UAE). Opened in January 2023, the office will service members in the UAE and the wider Gulf Cooperation Council (GCC) region. This is our first new office since Guangzhou in 2012, and it is important to have a presence in the Middle East.
Merran Kelsall AO FCPA
President and Chair
On behalf of CPA Australia's Board of Directors