Were The Jetsons right about the future of work?
Were The Jetsons right about the future of work?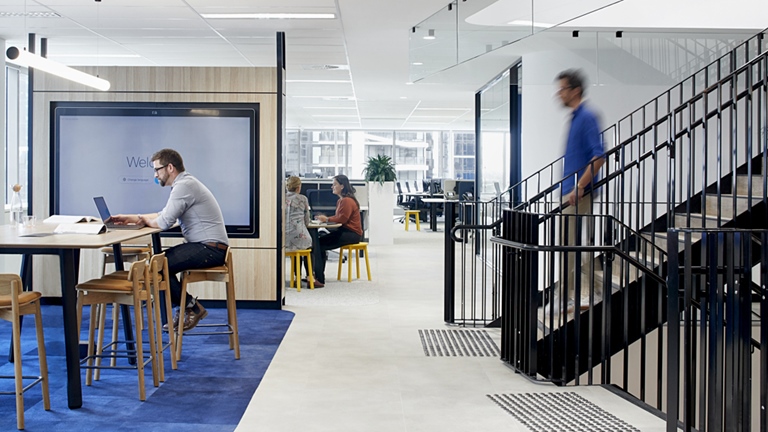 Garreth Hanley:
This is INTHEBLACK, a leadership, strategy and business podcast, brought to you by CPA Australia.

Jackie Blondell:
Does the working from home phenomenon mean the end of the office as we know it? That's what we'll be talking about today with architect and workplace researcher, Dr. Augustine (Gus) Chevez. Gus has dedicated his career to understanding the notion of work and uncovering environments that best support our working lives. He is research lead for Workplace Futures at the Centre for New Workforce and an adjunct research fellow at the Centre for Design Innovation at Swinburne University. Today we are talking about how the way we work and where we work might change in the future. A cartoon series from the 1960s might have some clues for us. Welcome, Gus.

Dr Agustin (Gus) Chevez:
Thanks.

Jackie Blondell:
Now the Jetsons is an animated TV show produced in 1962 but set in 2062. George Jetson is a 40-year-old digital index operator, who works one hour a day, two days a week. Meanwhile, in 2023, we're still debating whether efficiencies in technologies will allow us to work a four-day week. Are we stuck in 1962 or on the journey to 2062?

Dr Agustin (Gus) Chevez:
Yeah, that's a great question, and also trivia fact, George Jetson was supposedly born last year, so this year is his first birthday. And if we take this an opportunity to reflect about if we're going to meet his future, if we fast track 40 years from now when we met him working, we will see him piloting his car for two days a week to work just one hour a day, so that put into context all the debates and what is going on around the four-day workweek. It gives a good opportunity to think about how much we work and how much we will be likely to work in the future. This type of conversations actually is not that recent.

They go as far as the early '70s. And back then though, however, there were about the same amount of work, time worked just compressed in four days. Whereas the new models that we see now are what's called 100/80/100, so you get 100% of your salary for only 80% of your time, assuming you meet 100% of productivity. Now, the Jetson's future and the four-day workweek that we have now, they're different because they're informed by two different assumptions. In the Jetsons, it was automation the reason why we work less, and the context has given us this four-day workweek is an exhausted workforce, one that is struggling to have better work-life balance, that is seeing this type of approaches. And also, it suggests that people are happier outside work, not while working. So this will also be an invitation not only to revisit how many hours or how many days we work per week but also making more meaningful work while we work.

Jackie Blondell:
And what about the fact that a lot of us now work from home even though we're not in lockdown, has that changed how we see the workplace? Should we be thinking more about the design of home workplaces?

Dr Agustin (Gus) Chevez:
Well, one way of realising that the Jetsons skipped the pandemic is by saying again that George, the father, goes to a place, the office, to work because back then, it was unconceivable that someone will get up and just go to the next room or to the kitchen table and work from there. So we had this idea of separation of work and home. And even though the technology that we see in the show has enabled us to work remotely, it was something that was not conceivable, and so we have to have these two different environments. Funny enough, we work from home before we have offices, and perhaps we'll talk a bit later about the origins of how the office emerged.

Jackie Blondell:
Actually, let's talk about the origins of the office now. It's a relatively new concept, isn't it?

Dr Agustin (Gus) Chevez:
Yes. Well, if we plot the history of work and we can see that the office has contained work for a very short period of time, and it's an invention of sorts that it was a product of a context that has for the vast majority ceased to be relevant. So reminding ourselves that the office is an invention allows to tackle the problems completely different because instead of having this debate of home or office or hybrid or not hybrid, if we just think about the workplace where people work, we can actually expand the type of solutions that we have. We don't have to tether work back to the office.

We just talk about where people work. So before we had the offices as much today as we have them now but they were starting to develop, but they were already there, dynasties like the Rothschilds, they will operate from home because they wanted to communicate to their clients certain messages of opulence or tranquility or things like that that they're better communicated at their home. So that's two lessons there. One is that we used to work from home before we worked in the offices. And the second one is that the workplace, a lot of it is the type of messages that we want to convey to others, not only the activities that they need to support.

Jackie Blondell:
You mentioned earlier that George Jetson commutes to work by flying car. That's probably not as astonishing as the fact that 40 years on from now, he's still going into the office and we're not. Should we be putting more thought into designing work from home spaces than simply having good Wi-Fi and computer equipment?

Dr Agustin (Gus) Chevez:
For too long, the working from home has been a checklist of Wi-Fi technology and things that you mentioned, and we overlooked that yes, even though we worked from home, the behaviours and the culture of both practises of domestic life and working culture have evolved through so many years so differently that they have created this conflict. And working from home now presents a lot of challenges with the mother way of living at home. So some people might not have the necessary cognitive boundaries between personal life and work life to navigate this conflict effectively. So we should also recognise that beyond the technical ticking box, we also should be looking at how people navigate this conflict between the boundaries of work and life.

Jackie Blondell:
Now, although we're still in the pandemic, a lot of people can go back to the office, but many, many offices are still half empty or two-thirds empty. Does this spell the death knell for the office?

Dr Agustin (Gus) Chevez:
Yes. Perhaps, I'll say perhaps it's the end of the office as we know it but the evolution of the workplace. So as we were saying before, we should stop talking about the office and start talking about the workplace where we work. And then the home is the workplace, the coffee shop is our workplace, and the office can continue like a centralised type of hub where people from same organisation and different ones come and gather together for work.

Jackie Blondell:
Do you think it's valuable for people to gather together in one central place not just to be productive but to be social?

Dr Agustin (Gus) Chevez:
We kind of overlook the importance of being together and we try to justify it with how much that the output in collaboration and how much revenue generates that. There's research that suggests that actually, isolation can produce better ideas, more innovative ideas, more unique ideas, but also we need to manage the problems of being isolated. But in social settings, we can cultivate things like empathy. We're more likely to empathise with those that we share space with. At the same time, that can create proximity bias. We might favour those that we most work amongst others and rather than people that are working remotely from home. So as we can see, it's managing the benefits and the downsides of being in the same space or being distributed because each of them provides benefits and also things to manage. I think the success here is not to talk about the office or not the office but talk about the workplace, one that successfully manage the advantages and disadvantages of working distributed and collocated.

Jackie Blondell:
Should we be encouraging people back to their workplaces?

Dr Agustin (Gus) Chevez:
They never left the workplace. Again, perhaps the question, should they be go back to the office? Because they went to the workplace, whatever that was, the places that they were working. The argument is now should they come back to the office? And my answer to that will be why? What's the benefits of going back to that? It might work for some organisations. It might not work for others. And so here is the opportunity to rather than just following the inertia, the social convention that the office is where we used to go, stop and think why. Before the pandemic, I was at a barbecue or social gathering and I explain to people what I used to do. No one could care less. They were more likely to talk to the accountant. Nothing personal here, but there was no interest about the places where we work. Now, the workplace is the news. People are stopping and thinking, do I need to go and work there? Why? Is it because we have an office and we need to fill it up? Because that's not a good reason in and on itself. Or because they're business drivers or objectives that can be satisfied by having people going to that shared facility to work.

Jackie Blondell:
Now, Gus, you have been thinking a lot about workplace design to the point where you actually walked alone for over 900 kilometres from Melbourne to Sydney just to mull these ideas over. Now you must have had a few boring moments along the way. Can you tell us how being bored might actually help us in our work?

Dr Agustin (Gus) Chevez:
I wanted to see if isolation, again, as opposed to increased collaboration and so on could increase diversity of ideas. And so I walked in complete isolation for 42 days it took me to walk from Melbourne to Sydney, trying to incubate a unique idea about work and the workplace. And I differentiated it from a walk as a pilgrimage, and a pilgrimage have rules, and I have two rules. One was doing completely by myself, and the other one was no podcast, no audiobooks, no music, no anything, to be with my own thoughts. And that worked well, but by the third day, I was bored beyond belief. Once the novelty wore off, what am I doing? But I persevered, and it paid off because I was able to reach a state of mind, let's say, in which the type of thoughts that I had were different from the ones that we get from environments that overstimulate us. Now, boredom should not be underestimated because studies suggest that people rather inflict pain to themselves than be left with their own thoughts, so it has to be managed. But if we are restraining the way we design workplaces and work even that is not around bossiness and overstimulation, we might also be able to produce results that come from other states of mind like boredom, which is a lost thinking tool, I think.

Jackie Blondell:
If you're enjoying this episode of INTHEBLACK, you might like our Excel Tips podcast. Each week, our resident Excel expert, Neale Blackwood CPA, brings you tips and tricks for Microsoft Excel. Search for Excel tips in your favourite podcast app or check the show notes in this episode to subscribe. Now back to INTHEBLACK.

Jackie Blondell:
Given that we, depending on our job of course, can work from anywhere, do set hours of work still matter or should work be linked to achievement rather than hours?

Dr Agustin (Gus) Chevez:
That goes back to the idea of the four-day working week. And I think what is holding back the future of work is not so much technology or things like that, but it's assumptions of how we see the world. So for example, the linearity principle suggests that the more we do something, the more we get out of it. So it's counterintuitive that if we work less, we might be more productive. So even though there a lot of studies going on and just recently, they just published the results on that and they're very favourable in the way productivity and all these measurements, it's still counterintuitive, well, hold on, how can someone be more productive if they're working less? The same goes to the office, where we work, is the assumption that work needs to happen at a place called the office. So it's our underlying assumptions of how much we need to work and where work needs to happen that I think are holding the future or better future of work.

Jackie Blondell:
What about the actual times that we are more productive? For example, some people like to check and send their emails really early in the morning because that's when they're productive. Other people work more effectively at night. They want to send and receive emails then. But there's a general feeling that we should keep our email activity to conventional office hours. How does that work in our collocated working environment?

Dr Agustin (Gus) Chevez:
Work and the workplace are incredibly social phenomenon and therefore, depend on a lot of social messages that are communicated in complex but also subtle ways. While I was doing my PhD, I came across an interesting case study in Japan in which it was observed that people in a meeting when they were falling asleep, nodding, they will let those people have a little snooze during the meeting. They were not given the elbow, wake up. The assumption behind that was happening is that the message that they were conveying is that they were working hard for the office, so they were working late at night and they were therefore exhausted. Now what was interesting is what happened, next because people start learning the message that that conveyed and start mimicking that behaviour without putting all the late hours and working that hard.

Jackie Blondell:
I call that creative, but there you go.

Dr Agustin (Gus) Chevez:
Yes, it is creative, but then it goes about how we work. It's also the complex type of messages that we want to convey. Back to your idea of the emails. Again, and this was even before the pandemic, people working remotely, there was this pressure for them to respond very quickly to any emails they got because they were worried that they will be perceived that they're actually not working. They're just watching TV or whatever, slacking off. So they will even respond faster than their counterpart in the office because people could see they were working in the office.

Jackie Blondell:
Yeah.

Dr Agustin (Gus) Chevez:
And so there are also documented cases that people will prepare the emails but then use and send it at a later time just to send that same level of message, I'm already working late.

Jackie Blondell:
That's so sneaky.

Dr Agustin (Gus) Chevez:
That's sneaky, but then again, those are the type of messages. So it's not so much the message of the email but when it was received that was sending a stronger message than what was contained in the email itself.

Jackie Blondell:
It doesn't sound very healthy.

Dr Agustin (Gus) Chevez:
No, but it's all the type of messages. One of the research that we were working on, again before the pandemic but has become even more increasingly important now, is making space for leadership. What are the attributes of the physical environment that allow us to communicate leadership in the workplace? Because the workplace allow us to communicate how we dress, how we move, how we conduct ourselves in a meeting, all these ways, classic knowledge and everything that helps to communicate leadership is lost when we go digitally. That doesn't mean that we cannot evolve to enact digital leadership but we need to learn that. And at same time, it brings back to the forefront the idea of space as communicating all these different messages.

Jackie Blondell:
Speaking about space, what about digital space? Has there been much work done in translating how good leadership works in a digital environment?

Dr Agustin (Gus) Chevez:
Two things that shaped the office were hierarchies and bureaucracies.

Jackie Blondell:
Yeah.

Dr Agustin (Gus) Chevez:
The assumption that there's one way of doing things or bureaucracies and how the structure of the organisation or hierarchies, and space is a currency of hierarch. The CEO will get the best office and so on. And it came to the point that it was an expectation, so young generations, in a way, I remember doing all this, again before the pandemic on this, but there was this sense of betrayal now that we were going to open plan more democratic, flatter organisations. And some people say, "Well, I want it at my office. I was hoping that one day, I will be able to close my door and say this is my office." And now they have lost all that.

Jackie Blondell:
You must have seen a lot of workplace design trends over the years. Should we all be jumping on the latest design trend bandwagon or should we be thinking about the type of business we are? For example, what would be the design principles to follow if you're an accounting firm?

Dr Agustin (Gus) Chevez:
The problem that I see is people trying to correlate the success of an organisation with how it looks, forgetting also with how it works. And so they see Google and they see their aesthetic and say, "Well, maybe if we replicate that aesthetic, we'll get the same type of results." And it's not quite that because it has to align the experience design, which is increasingly becoming more and more relevant, needs to be aligned with the way the organisation is designed and needs to be supported with workplace design. So I think that if organisations, they can understand the very unique aesthetic of work, then together with designers, we can use that aesthetic to grab the organisation so they can have better conversations with their employees and also with their clients.

Jackie Blondell:
Can you tell us why we need a bit of friction in our workplace design?

Dr Agustin (Gus) Chevez:
Yes. So there is this very interesting anecdote from the sausage factory in Chicago that they went from their old factory to state-of-the-art specifically and purposely designed new factory. And the sausages were very well-known by their colour and their texture of how they snapped. They were rich red in colour, and they have this crispiness on how they snapped. And they moved to their new flashy factory, sausage factory, and they lost both their snappiness and their colour and-

Jackie Blondell:
So were they pink and floppy after that?

Dr Agustin (Gus) Chevez:
Yes. And they couldn't work out, why? This is purposely designed. What's going on? We kept the same recipe. Everything is the same. What went wrong? And after too much thinking about it, they remembered a guy called Irving. And Irving, his job was to transport the sausages from one place to another, which in the previous layout, it was like a labyrinth because it had come to grow very organically in an unplanned way. And that time, which I believe was around 30 minutes, allowed the sausages to cool down, and that gave them their texture and their colour. So by the process of making something more efficient, they actually lost their competitive advantage, which was this distinctive texture and colour of their sausages.

Jackie Blondell:
That may work for the sausage company, but why do we generally need more friction in our working lives?

Dr Agustin (Gus) Chevez:
When I was doing the walk, I was hungry, tired, felt lonely, all the type of adversities that you can think of, but with that came incredible insights and growth. So it made me realise that if it's so well documented in the literature how much societies and even individuals benefit from adversities, how much we strive for as designers to remove it from our work environments to create these frictionless environments in pursuit of environments that don't challenge us. So one of the research I'm working on is how we can bring back adversities, which ones are worth keeping or even introducing in the environment to promote innovation? The purpose of design to an extent is to remove adversities that we encounter in the environment to make it more hospitable.

Jackie Blondell:
Is that because design principles are about making things more harmonious rather than discordant?

Dr Agustin (Gus) Chevez:
What I found is, again, in the tangible environment, it's a pursuit of removing adversities, making environments more comfortable for illumination, acoustics, thermal and so on. In the case of the intangibles' environment, managers and researchers in management are more curious about how we can use adversities to promote innovation. There's a fascinating paper that the researchers position collaboration next to adversity as indicators of scientific creativity. In design, we don't ask those questions. We just want to strive for the frictionless environment.

Jackie Blondell:
Well, the Jetsons painted a picture of an optimistic future where technology helped us be happier, but now we're worried about machines replacing us in the workplace. Do we have any natural human advantages over technology left?

Dr Agustin (Gus) Chevez:
So roughly speaking, you can think about innovation in two ways. There's innovation that allows to do things faster, cheaper, have the same type of society that we have now, just fast track or doing it cheaper. But there's another type of innovation, the one that allow us to have better societies or imaginable societies like thinking about a metal bird, a bird made of metal, that's impossible, but then you have the aeroplane. This type of absurdities, entertaining two propositions that cannot be simultaneously true is what give us better futures. And I think that's our ability to entertain those absurdities that will create better futures and not only cheaper, faster improvements of what we already have.

Jackie Blondell:
That's all we have time for. Gus, thanks so much for joining us. Links to Gus' website and his book, the Pilgrim's Guide to the Workplace, can be found in our show notes. You've been listening to INTHEBLACK podcast. If you like what you've heard, leave us a review and subscribe on your favourite podcast app. Thanks for listening.

Garreth Hanley:
If you've enjoyed this episode, help others discover INTHEBLACK leaving us a review and sharing this episode with colleagues, clients or anyone else interested in leadership, strategy and business. To find out more about our other podcasts, check out the show notes for this episode. We hope you can join us again next time for another episode of INTHEBLACK.
Is the idea of "work" imagined by 60s futuristic animated show The Jetsons becoming a reality?
Did you know that the show's main character, George Jetson, a "digital index operator" who zipped around in a flying car, was estimated to be born in 2022?
With this in mind, we examine the broader idea of work, a working week and the workplace, and query if the show's futuristic vision, where technology promised a better world, has any relation to reality in 2023 and beyond.
Of course, we're not using flying cars (yet), but the pandemic has forced a major rethink of how we approach the notion of "work" and "the workplace", as technology allows collaboration from anywhere in the world.
Does the working from home shift mean the end of "the office" as we know it? We ask the big questions with our special guest expert, looking at how the workplace and work culture were viewed historically, and how we'll collaborate effectively now and into the future.
Don't miss this episode.
Host: Jackie Blondell, Editorial Content Lead, CPA Australia.
Guests: Dr Agustin (Gus) Chevez, Research Lead, Workplace Futures, Centre for the New Workforce, and Adjunct Research Fellow at the Centre for Design Innovation at Swinburne University.
For more on this topic, Dr Chevez's book The Pilgrim's Guide to the Workplace has some thought-provoking ideas and insights.
CPA Australia publishes three podcasts, providing commentary and thought leadership across business, finance, and accounting:
Search for them in your podcast service.
You can email the podcast team at [email protected]