Why study data and digital micro-credential courses?
Unlock the power of data
The world is changing at a rapid pace. Data drives so many of our decisions, it can feel hard to keep up. But data is just a tool, and with the correct application, a very powerful one. The key to unlocking its power is simple: knowledge.
Fast results, flexible hours
Our micro-credential courses have been designed to deliver fast, practical knowledge that will have an immediate impact on your everyday. Each course provides focused and relevant skills in the data and analytical field and requires only 4-6 hours of study.
Our data and digital micro-credential courses
Advance your career by enhancing your skills in data and digital solutions. Each course is designed for accounting professionals to deliver fast and practical data knowledge, taking no more than six hours to complete. These flexible short courses will accelerate your data skills and help to future-proof your career.
Data Visualisation and Storytelling
Learn to turn complex data into compelling stories.
Master the art of financial data storytelling by learning about the different types of charts and dashboards, and how to turn complex data into compelling stories. Accelerate your career by also learning how to apply data ink and Gestalt principles, and pre-attentive attributes to eliminate unnecessary detail in data visualisations and draw attention to important information.
6 CPD Hours, $165 AUD (Member price, inc GST)
Enrol in Data Visualisation and Storytelling course now (AU)
Data Interpretation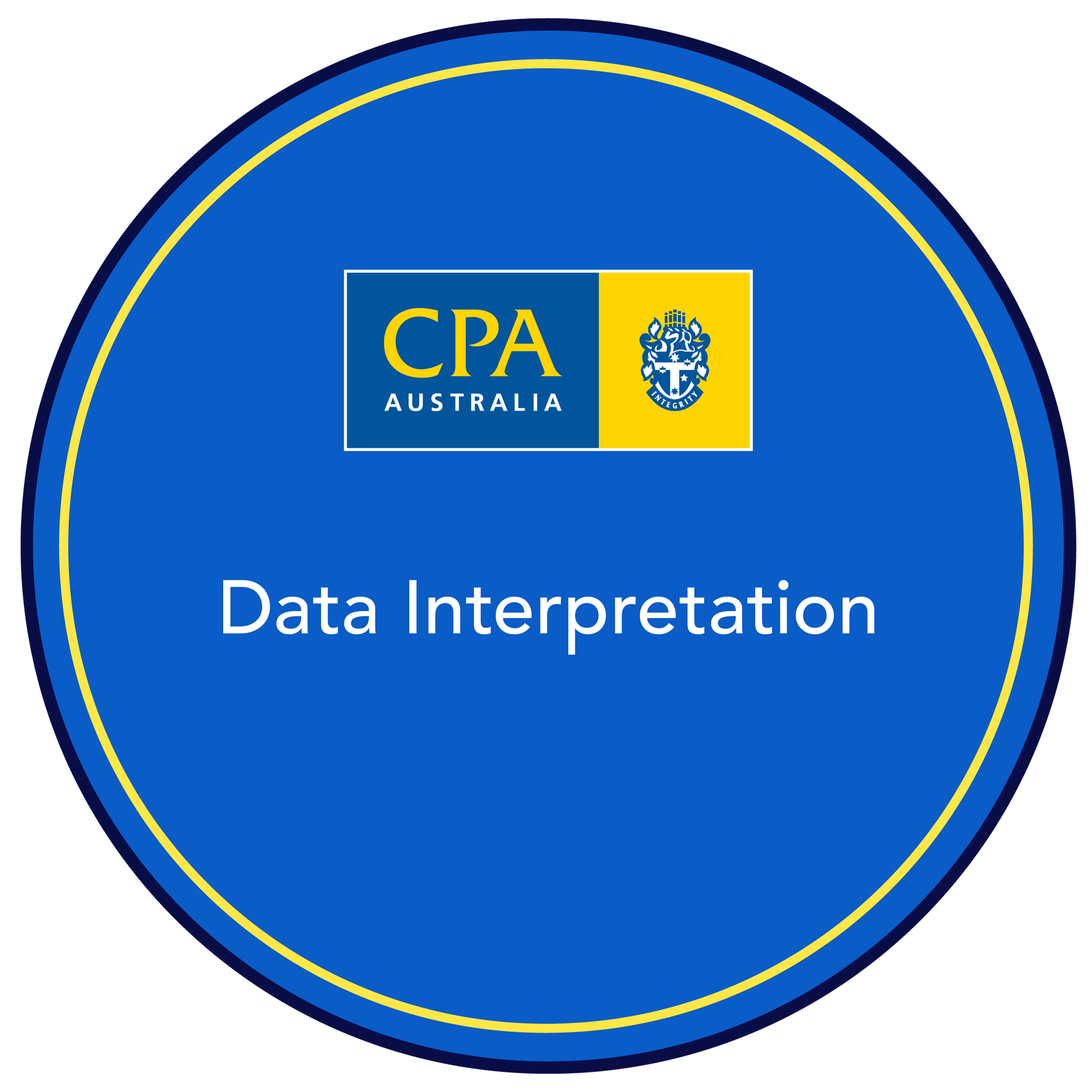 Learn to interpret and inform with data.
Unlock the full potential of financial data by learning how to interpret data to make smart business decisions. Data interpretation analytics refers to the process of using different analytical methods to review data and reach relevant conclusions. In this course, you will learn how to use four methodologies – correlation analysis, regression analysis, forecasting, and optimisation to analyse relationships between variables and datasets, plan, budget and solve business problems. Invest in your career by investing in this Data Interpretation course.
4 CPD Hours, $165 AUD (Member price, inc GST)
Statistical Analysis for Decision-Making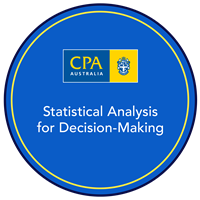 Learn to use analysis to make decisions.
Upskill for the future by understanding how to categorise and organise different types of financial data for analysis. Learn how to turn analysis into answers by exploring the fundamental concepts in probability and how they can be used in organisational decision making.
4 CPD Hours, $165 AUD (Member price, inc GST)
Enrol in Statistical Analysis for Decision-Making course now (AU)
Data-Informed Decision-Making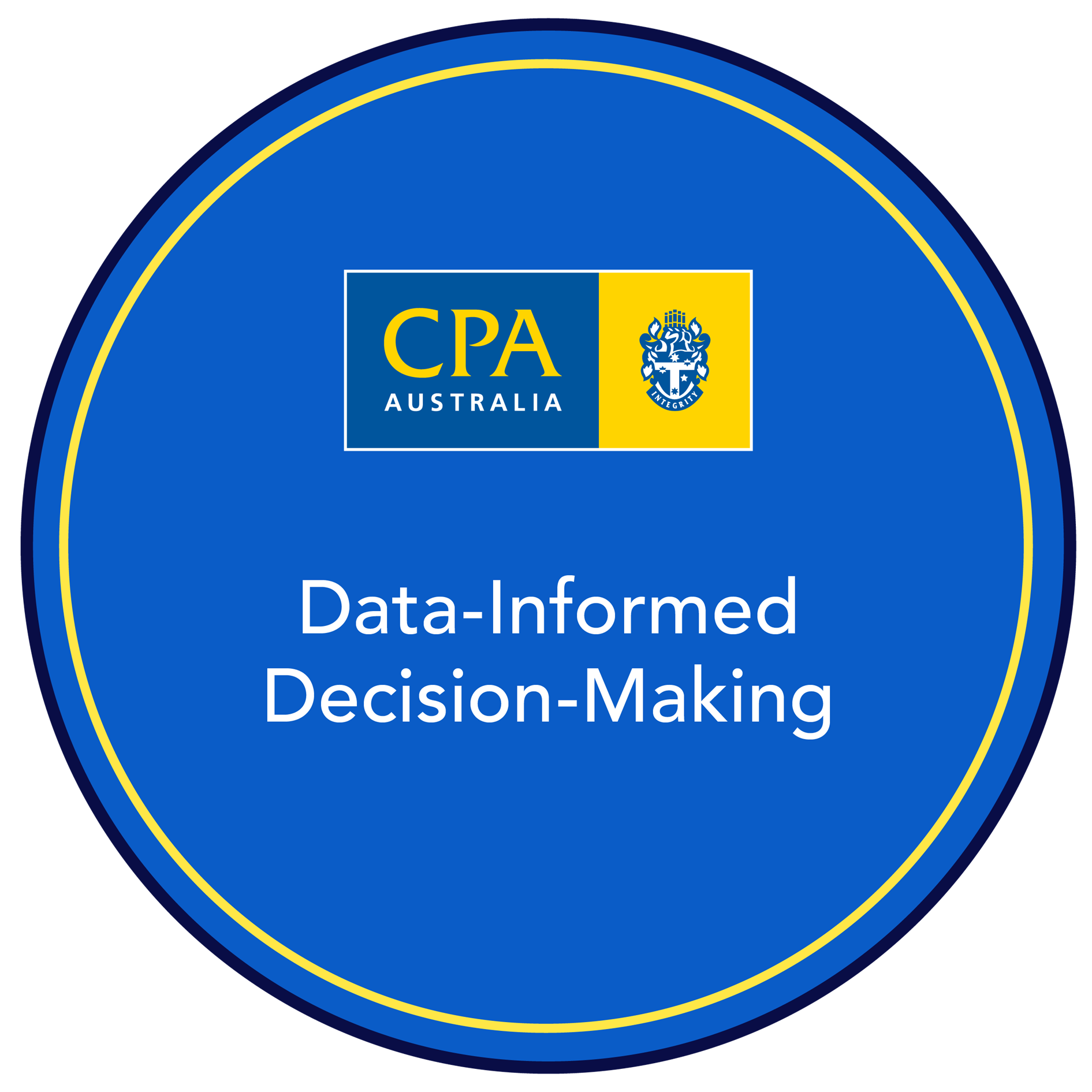 Learn how data informs decision making.
Enhance your career skills by learning more about how data-informed decisions can add value to businesses. This online course explores the different steps of the data analytics decision-making process – including the key aspects of framing the problem, data collection and cleaning, data exploration, data modelling, model evaluation, communicating insights, and taking action.
6 CPD Hours, $165 AUD (Member price, inc GST)
Creating a Data-Driven Culture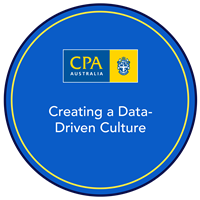 Learn how to build a data literate culture.
Build a data-driven culture in your business to help take your career to the next level. This online course outlines the importance of building a data literacy culture within an organisation, including categorising employees into four different personas to better understand their attitudes towards data.
4 CPD Hours, $165 AUD (Member price, inc GST)
Select other currency
Use one of the links below to view courses in other currency
Have a question?
View some frequently asked questions about our micro-credentialed courses.